Taman Negara is Malaysia's prime national park and the leading ecotourism destination on the Malay Peninsula.
Tour companies offer a variety of packages including transportation from Kuala Lumpur. They can often be expensive but you don't have to pay for a costly guided tour to explore Taman Negara.
You can very easily take an independent trip to Taman Negara and save loads. The details are below but first some background information.
Background
The park is made up of unspoilt rainforest and is usually described in glowing terms:
• It's old. Said to be more than 130 million years old, the park is more ancient than the Amazon or Congo basin rainforests.
• It's big. Taman Negara covers an area of over a million acres spanning three states – Pahang, Kelantan and Terengganu. For comparison it is about the size of the UK's Lake District and Snowdonia National Parks combined.
• It's diverse. It is claimed that there are more tree species in a single hectare of this forest than there are in the whole of North America. There are reckoned to be more than 15,000 plant species, 150,000 insect species, 25,000 invertebrates, 675 bird species, 270 reptile species, 250 freshwater fish species and 200 mammal species living within the park boundaries.
Some misconceptions
• …that it is a restricted area requiring advance bookings from the Department of Wildlife and National Parks in Kuala Lumpur. This is not correct. You do need a permit to enter the park but you can obtain this on arrival at the Park HQ in Kuala Tahan.
• …that the park is in a remote and inaccessible location. Again, not true. You can arrive at Taman Negara within three hours of leaving Kuala Lumpur.
Access points to Taman Negara
There are four entry points:
1. The most popular entry point is at Kuala Tahan in Pahang.
2. Sungai Relau near Merapoh (also in Pahang) is closer to Gunung Tahan, Peninsular Malaysia's tallest mountain.
3. The park entrance at Kuala Koh in Kelantan was opened in 1995.
4. Tanjung Mentong is located on the southern shores of Lake Kenyir in Terengganu and is an alternative access point to the park.
The rest of this article focuses on the Kuala Tahan entry point.
How to get to Kuala Tahan
Most tours will involve a bus and river journey to reach Taman Negara but it is possible to drive all the way to Kuala Tahan from Kuala Lumpur.
The distance from the toll booth at the start of the Karak Highway (E8) on the northeast fringe of Kuala Lumpur to Kuala Tahan is 218 km and the journey will take three hours if you keep to the speed limits.
Exit the Karak Highway at the Temerloh turn-off and take route 98 towards Jerantut. Just before Jerantut you reach a T-junction and turn right on route 64. After a few kilometres turn left. Taman Negara is signposted at both of these turnings. It is not necessary to have a four-wheel drive vehicle for this route.
On arrival at Kuala Tahan, you will find a large manned and fenced car park where you can leave your vehicle securely for the duration of your stay. Parking here costs RM5 per car and RM10 for a bus.
Kuala Tahan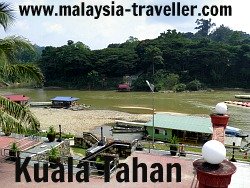 Kuala Tahan is a sleepy village on the opposite river bank to the national park entrance.
Besides the car park there are a few mini markets where you can buy soft drinks, water and snacks, a couple of basic restaurants and a number of places offering budget accommodation for travellers.
On the river's edge, are a few floating restaurants offering a reasonable selection of Malaysian and international dishes at low prices.
Here too is where you can catch one of the several small boats that will ferry you across the river to the opposite bank where the park entrance is located (and the Mutiara Resort – the only hotel within the park boundary).
Here is the Park HQ where you have to pay for a permit to enter the park (RM 1 per person which covers the whole duration of your stay) and a permit for your cameras and videos (RM5 per piece).
Activities at Taman Negara
Although the park is huge, the vast majority of visitors barely stray more than a kilometre or two beyond the park entrance. There is nothing wrong with this.
After all one bit of rainforest is much like another and even close to the Mutiara Resort it is possible to feel the atmosphere of the national park and perhaps spot some of the park's wildlife like deer and wild boars.
Here are some of the activities available within the immediate vicinity of the park entrance (there is no need to hire a guide for the first three):
Canopy walkway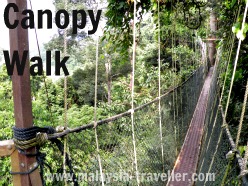 About a 1.7km walk from the resort is the Canopy Walkway, which consists of six long and narrow planks, totalling 530 metres in length, suspended 40-50 metres above the ground in a cradle of nylon ropes. It is anchored by steel cables wrapped around sturdy trees at each end.
Only four people are allowed on each span at any one time. The walkway, the world's longest, sways and wobbles but is safe enough and provides a birds-eye view of life in a jungle canopy.
Bukit Teresek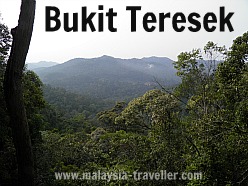 Close to the canopy walkway is the trail to the top of Bukit Teresek, a 334-metre high hill from where you can enjoy fine views of the national park. There is a boardwalk-style path going much of the way up.
Lata Berkoh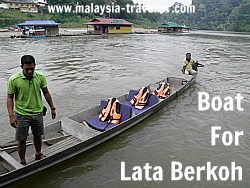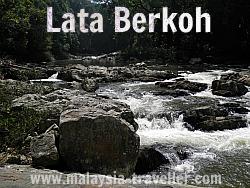 This excursion is a popular trip by narrow river boat which holds a maximum of four passengers and two crew members, one steering the outboard motor in the rear and the other sitting at the bow watching out for rocks and obstacles.
From the jetty in front of the Mutiara Resort, take a boat ride for around 45 minutes and then walk for 15 minutes along the edge of the beautiful Sungai Tahan until you reach Lata Berkoh, an area of rapids where it is possible to swim with caution if river conditions are suitable.
Then walk back to the boat and ride back to the start point.
Tip. Book the trip from the Park HQ for a good price. The resort hotel charges more.
Other activities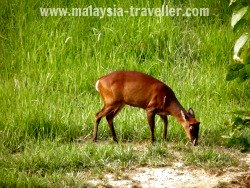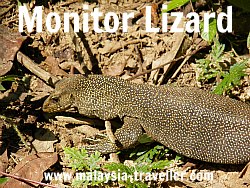 Other popular activities include a guided Night Jungle Walk where you might get to see scorpions and snakes. You will definitely see plenty of insects and creepy crawlies as well.
There is a Hide and a couple of boardwalk loops close to the Mutiara from where you might get to see some of the park's wildlife such as this deer near the Tahan Hide.
Further afield are some caves to explore (Gua Telinga 2.6 km away, Gua Kepayang Kecil 16.7 km, Gua Kepayang Besar 17.7 km and Gua Luas 20.9 km away).
Gunung Tahan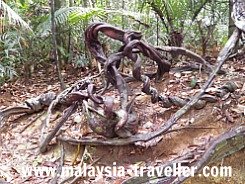 For the super-fit mountain climbing enthusiast, Taman Negara is home to Gunung Tahan (2,190 metres), Malaysia's sixth highest peak and the highest in Peninsular Malaysia.
To climb Gunung Tahan requires a trek of between five to nine days depending on the route chosen and experience levels. It is said to be extremely arduous and necessitates frequent river crossings and scaling numerous smaller peaks along the way.
Climbers have to carry all their own food and camping gear and clothing suitable for the nighttime cold near the summit, heavy rain and the steaming heat.
If that is not enough to put you off, Walter Skeat, an ethnographer who wrote about Malay folklore and legends in the late 19th century said this about Gunung Tahan:
"To the Malays it is the abode of all the most malignant spirits, and contains the matrix of all gold and silver ores, which is guarded by gigantic man-eating apes as big as bulls and immense serpents and mosquitoes as big as fowls."
This is one activity that should not be attempted without a skilled guide.
Accommodation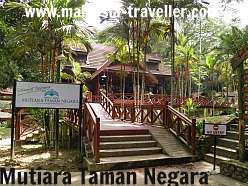 The Mutiara Taman Negara, is the most upmarket resort in the area and the only hotel within the park boundary.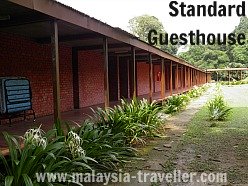 Having said, be prepared for their most basic rooms (standard terraced guesthouse with hot shower, air-conditioning, safe and fridge) in a rather ugly brick built block compared to their more attractive wooden chalet-style rooms.
The basic room is far from luxurious with no TV although to be fair, that is not what one comes to the rainforest for. Breakfast is quite good and you will find your stay is good value for money anyway.
This article first appeared in malaysia-traveller.com