The Merdeka Bridge Kedah (Jambatan Merdeka) was built in 1955 and officially opened by Prime Minister Tunku Abdul Rahman in 1957, the year of Malaysia's independence.
The bridge spans the Sungei Muda, the longest river in Kedah which has its source far away from Tasik Muda close to the border of Thailand.
The bridge carries Federal Route 1, a major north-south artery linking Butterworth and Sungai Petani. The river at this point marks the border between the states of Penang and Kedah.
The 100-metre long bridge is made of concrete truss and steel girder construction. A second bridge of similar design, the one on the right in the photo below, was added much later in 2008 to cope with increased traffic.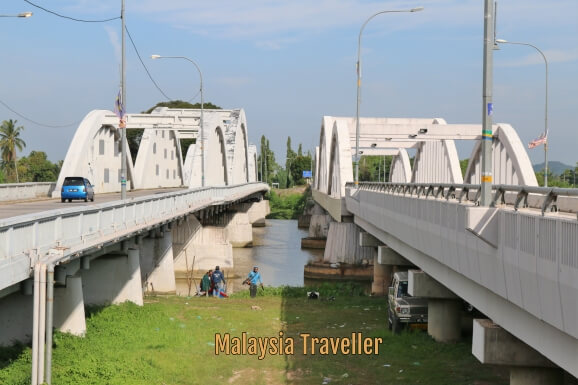 This historic location was the scene of a clash between the British and Japanese forces in 1942 during World War Two.
There was an earlier bridge here which the British partially destroyed in an attempt to slow the Japanese advance down the Malay Peninsula.
The Japanese soldiers simply swam across, dispersed the British forces defending the bridge and repaired the damaged section to enable their troops and vehicles to cross.
An old British bunker from that battle can still be seen a short distance from the Penang side of the bridge. If you zoom in on Google maps you can just make out the concrete bunker. Sadly it's not been maintained and is overgrown with weeds.
Today the bridge presents a much more peaceful scene with fishermen sitting in its shade as they try their luck to catch the plentiful fish in the river.
Address from the Penang end
Lorong Tanjung 1
Taman Bertam Indah
13200 Kepala Batas
Pulau Pinang
GPS: 5.563547, 100.428139
This article first appeared in malaysia-traveller.com