Thai Chicken Noodle Soup is an authentic, easy-to-make chicken broth with vegetables.
It is mildly spicy from the red curry paste used, and has a light creamy taste from the coconut milk, giving it the perfect balance of flavours.
The recipe calls for just a handful of main ingredients that are easy to obtain. These days, you can get curry paste ready-made in bottles and coconut milk in cartons from most grocery stores and supermarkets.
If you like the taste and aroma of lemongrass, lightly bruise the bottom portion of the stalk and add it to the chicken soup. Lemongrass infuses the soup with a wonderful aroma and makes it taste even better.
Rice noodles, rice vermicelli or maifun are great with this chicken soup. Just follow the instructions on the packaging on how to cook the noodles.
Once the noodles are cooked, ladle the soup over it and tuck in.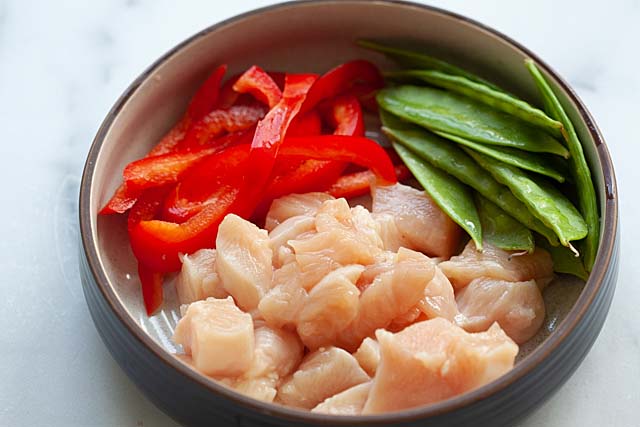 Ingredients:
• 340 g fresh noodles or fresh ramen noodles
• water, for boiling
• 3 cups chicken broth
• 2 tablespoons red curry paste
• 230 g boneless and skinless chicken breast, cut into cubes
• 115 g red bell pepper, cut into strips
• 60 g green peas
• 1/2 cup coconut milk
• 2 tablespoons fish sauce
• 1 teaspoon sugar
• 1 tablespoon lime juice
• Cilantro leaves, for garnishing
• Fresh lime wedges, for serving
Method:
• Bring a pot of water to a boil. Cook the noodles in the boiling water until al dente. Do not overcook. Drain and set side.
• Heat up a soup pot and add the chicken broth to it. Bring it to a boil.
• Add the red curry paste and chicken, stir to combine well and bring this broth to a boil.
• Add the red bell peppers, green peas, followed by the coconut milk, fish sauce, sugar and lime juice. Turn off the heat after one minute.
• To serve, divide the noodles into three to four bowls and ladle the broth over them. You can also add the noodles into the soup.
• Garnish with cilantro and squeeze lime juice over dish before eating.
This article first appeared in rasamalaysia.com
Low Bee Yinn is a food blogger and cookbook author.